11.11.17
Rimrock Ranch is located north of Joshua Tree National Park, past Pioneertown, California in what feels like the middle of nowhere in the desert. One weekend in November, a diverse group of family and friends traveled as far as Europe, Mexico, LA and the East Coast (like myself) to celebrate the union of this awesome couple. Ramsey and Freddie are intelligent, compassionate, warm and funny; everyone was clearly happy to come party for them. However, throughout their wedding weekend, the couple of honor insisted that the event was not as much about them as it was about all the friends and family in attendance. As I came to see, there was a deep truth in that sentiment.
The Welcome Dinner on Friday night was held in "The Lodge" at Rimrock Ranch. The large cabin was big enough to accommodate the 40-50 guests and came equipped with a kitchen. The spirit of everyone helping out pervaded this intimate gathering.
*Photographer's Note: I chose to present the "Welcome Dinner" in B&W for several reasons. It unifies the images as a series and sets them apart from those of the actual wedding. Also, this sweet little gathering already seemed to have an air of nostalgia to it that I think is conveyed beautifully in a vintage style. I began my editing here with a preset that emulates the look of Kodak Tri-X 400, which is the film I used to shoot when Ramsey and I took darkroom photography classes together in high school. Bear with me here, and the desert sun of wedding day morning will reveal saturated colors reminiscent of Oz.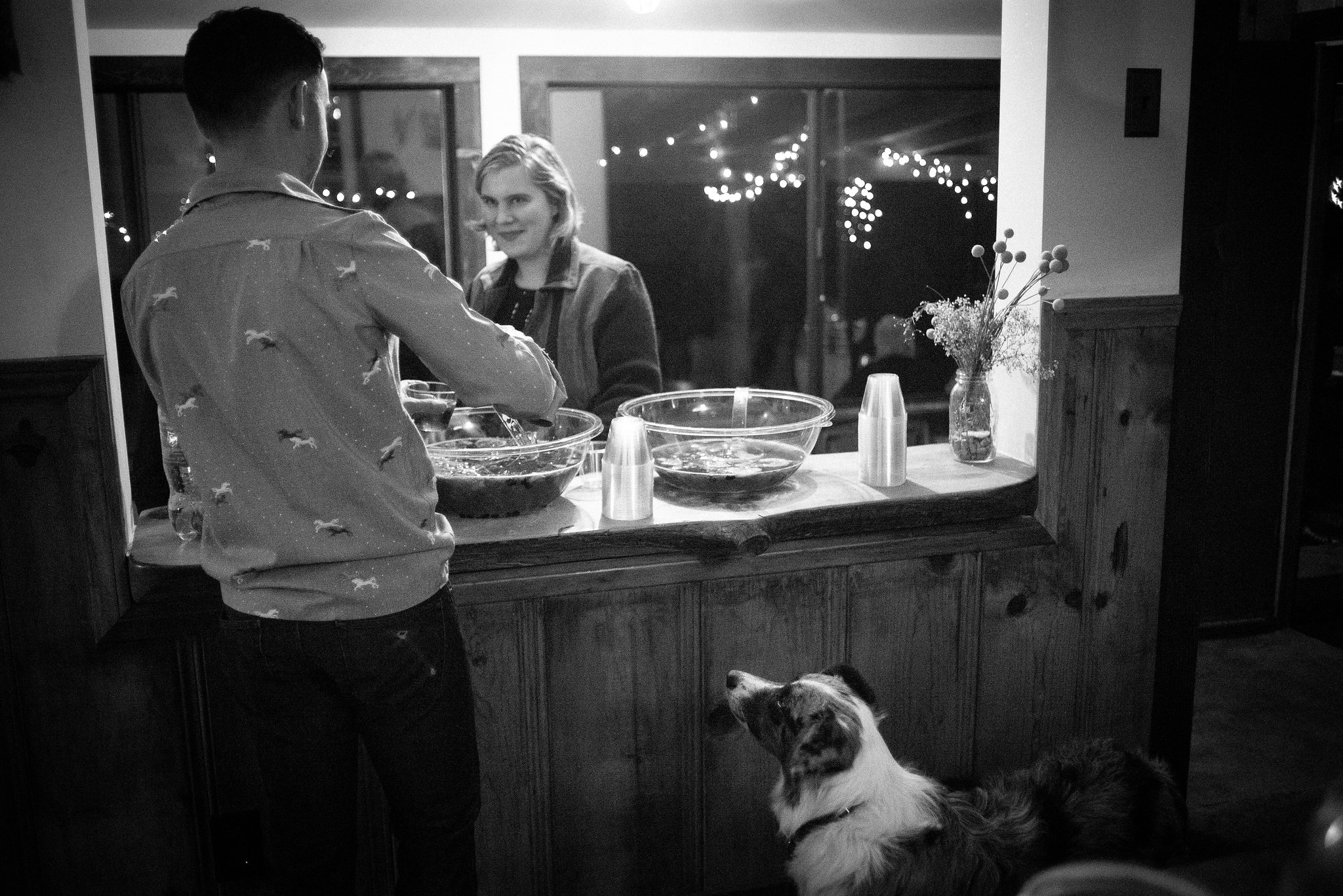 Upon meeting, these two little girls (from Mexico and Italy respectively) became instant best friends, despite speaking different languages. Watch for more photos of these cuties; they were inseparable for the rest of the weekend.
Freddie gets out the cake! They used this opportunity to sing "Happy Birthday" to anyone with a birthday in October, November, or December. The group was more than happy to play along, providing renditions in English, Spanish, and Italian.
With no professional planners or party staff, everything to set up for festivities was done by family and friends. Here Ramsey and Freddie are leading a morning meeting to organize teams and assign tasks to happy volunteers.
When I asked Freddie's nieces what their team name was for setting up the chairs, they said "Gucci Gang". They may have suspected that I'm too old to get it. (And they would be correct.)
Team Denny (Donna + Jenny) washing and arranging mounds of succulents for the table centerpieces.
Paco finalizing and printing the program. As the officiant of the ceremony, he took care that the presentation was fully bilingual in both English and Spanish so no one would feel left out.
Ramsey's father got slightly overwhelmed pre-washing the dishes. They had collected the plates and silverware from thrift stores and transported them out to the venue.
Ramsey's mother had a sweet job arranging beautiful flowers.
Many hands helped string decorations, giving the already surreal venue a festive, magical feel. Freddie explained that finding the right color scheme in tissue balls meant searching all over the place in Mexico. These special touches not only looked fantastic, but also held meaning in honoring Freddie's family, culture, and heritage.
Once everything was in place for the festivities, people had to get themselves ready too. I stopped in to see how the grooms were doing as they got dressed separately. Freddie was busily ironing when I arrived, and paused to show me his stunning traje de charro.
Meanwhile, in cabin #4...
One of the final activities of the night was a fun game where guests could pin dollars on the grooms' suits in exchange for a dance. In retrospect, I think this activity was a beautiful metaphor for how the presence and support of many individuals made this celebration what it was. Regarding love from family and friends, Ramsey and Freddie are undeniably rich.